Mechanism of Action & Combination Treatment
Mechanism of Action & Combination Treatment
of our Investigational Drugs*
NRX-101 is a patented, oral fixed-dose combination of two FDA-approved drugs: D-cycloserine, an NMDA receptor modulator at certain dosage ranges; and Lurasidone, a 5-HT2a receptor antagonist. If approved by the U.S. Food and Drug Administration (FDA) and other health regulatory agencies, it would be the first medicine regimen targeted to treat severe bipolar depression in patients with both acute and sub-acute suicidal ideation or behavior (ASIB & SSIB). 
*These drugs are not approved for the indications discussed below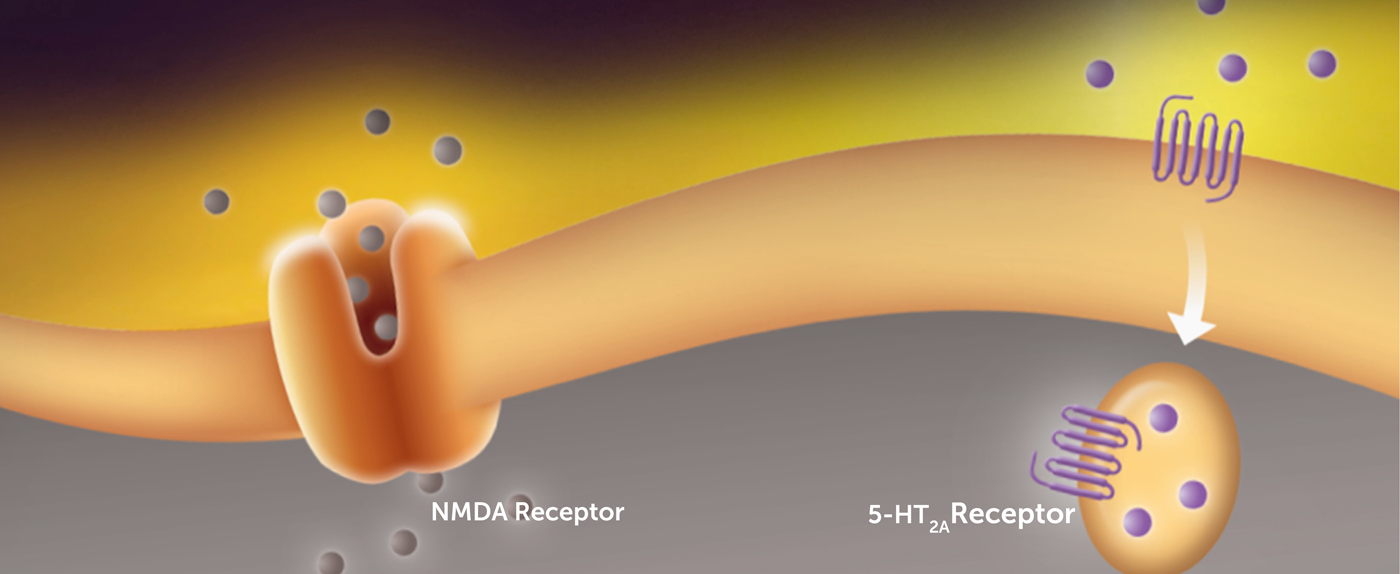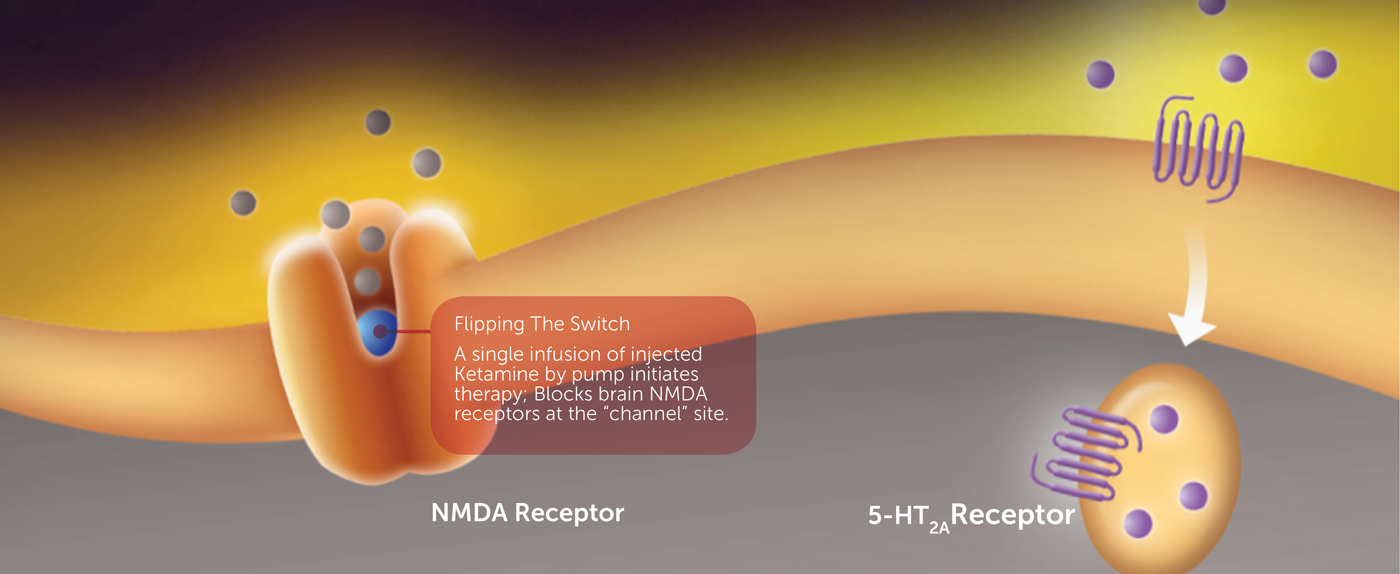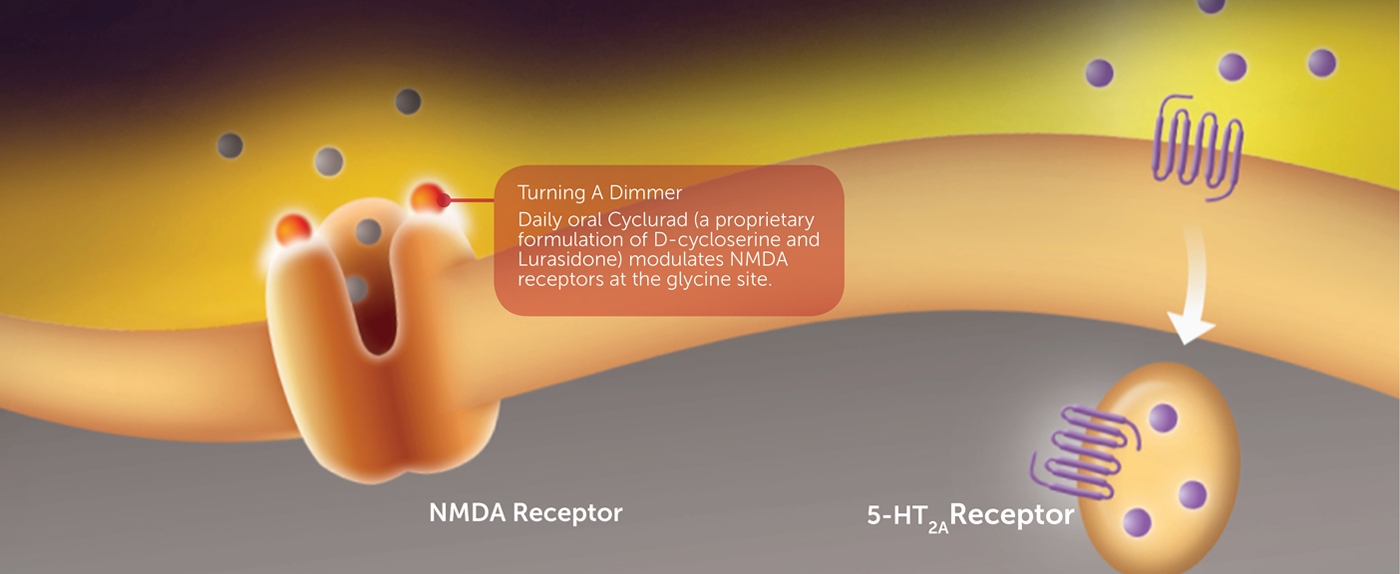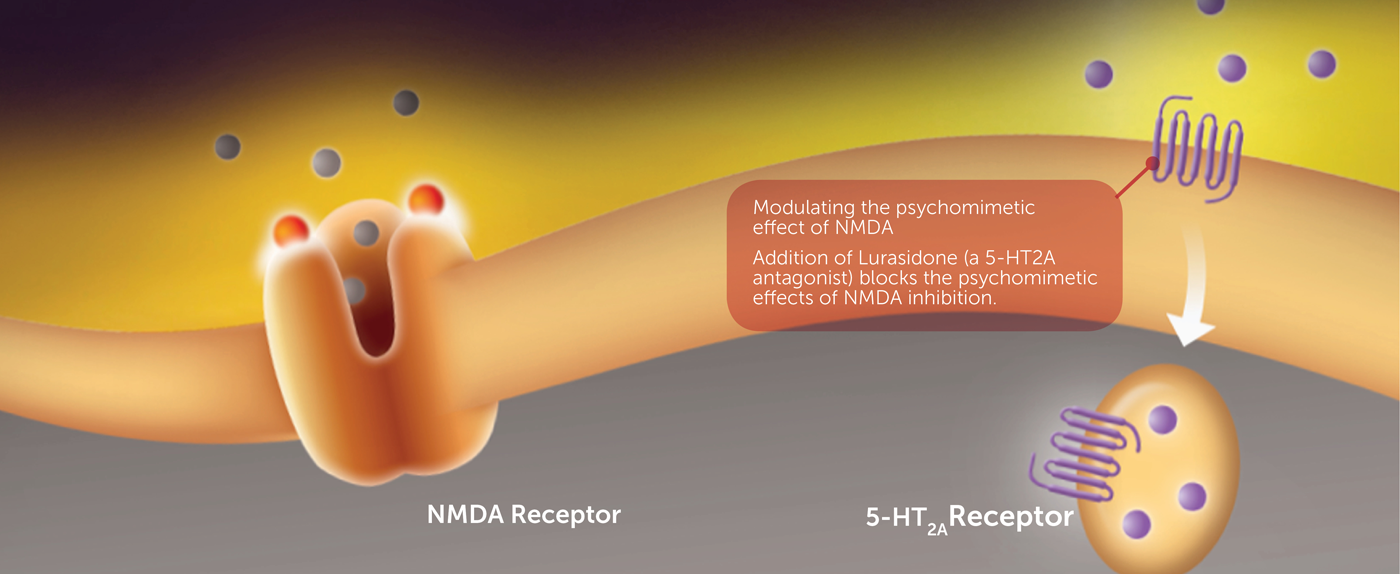 A New Combination Treatment for Suicidality
NRx fixed-dose combination specifically targets people with severe bipolar depression who also have acute or sub-acute suicidal ideation by combining an NMDA antagonist, such as D-cycloserine with Lurasidone (NRX-101) in our clinical trials.
Patients who suffer from bipolar depression with acute suicidal ideation or behavior (ASIB) are first stabilized, often with ketamine or sedating drugs, to reduce the acute risk of self-harm. These drugs have only short-term effects and a stable, non-sedating and non-psychedelic drug is needed to reduce symptoms of depression and suicidal ideation over the long term. This long-term effect was seen in the phase 2 trial of NRX-101 and the company is attempting to replicate this finding in a larger phase 3 trial. This trial has been granted a special protocol assessment (SPA) agreement by the U.S. FDA.

Patients with suicidal bipolar depression who are not at immediate risk of self-harm (i.e., sub-acute suicidal ideation or behavior (SSIB) are typically treated in an outpatient setting, as they do not routinely require hospitalization. More than 700,000 patients with suicidal bipolar depression are currently in need of treatment in the U.S. alone. NRx has initiated a second registration trial in these patients, where no prior stabilization with ketamine or other drugs is needed. 
Should these trials in patients with active suicidal ideation demonstrate efficacy, NRx plans to initiate trials in the far broader, estimated 7 million population of patients with chronic/intermittent bipolar depression, nearly all of whom have intermittent thoughts of suicide.
Lurasidone, a 5-HT2a Receptor Antagonist
One key potential combination target that has shown promise in counteracting the side effects of D-cycloserine is the 5-HT2a receptor, a G protein-coupled receptor and a member of the serotonin family.  It is known for its role in mediating certain antipsychotic drugs. Studies have demonstrated that deceased suicidal and other depressed patients have had more 5-HT2a receptors than normal patients, indicating that the increased presence of 5-HT2a receptors may play a role in depression.
Lurasidone (Latuda®), a 5-HT2a antagonist, is currently approved as an antipsychotic and for bipolar depression. However, in animal akathisia studies, it was discovered that lurasidone and other 5-HT2a antagonists have an unexpected synergistic effect with D-cycloserine, potentially enhancing the antidepressant effect while minimizing the potential psychomimetic side effects.
The combination of lurasidone (and other 5HT2a antagonists) and D-cycloserine led to a significant reduction in akathisia compared to control and to lurasidone alone. Akathisia is defined as a state of agitation, distress, and restlessness that is an occasional side-effect of antipsychotic and antidepressant drugs.

The inclusion of ketamine, an FDA-approved anesthetic, in a combination treatment for acute suicidal crisis in bipolar depression is also supported by scientific research. Like D-cycloserine, ketamine works by targeting the NMDA receptor. Clinical research has demonstrated that by blocking the NMDA channel, ketamine rapidly reduces depression and suicidality in people with bipolar disorder.
Despite these promising clinical findings, ketamine is not FDA-approved for the treatment of bipolar depression or the reduction of suicidality. Ketamine's antidepressant/anti-suicidal activity is short-lived. Treatment of bipolar depression in patients with ASIB would therefore require repeat infusions of ketamine. However, ketamine administration is associated with hallucinations and other psychomimetic side effects, and could require 1-2 weekly visits of the patient to a treatment center.