Our Science
NRX-100/NRX-101
NRX-101 is a fixed-dose combination of D-Cycloserine and Lurasidone. NRX-101 is part of NRx Pharma's investigational medicine regimen of NRX-100 (ketamine) and NRX-101. If approved by the U.S. Food and Drug Administration (FDA) and other health-regulatory agencies, would be the first medicine regimen to treat Severe Bipolar Depression in Patients with Acute Suicidal Ideation and Behavior (ASIB).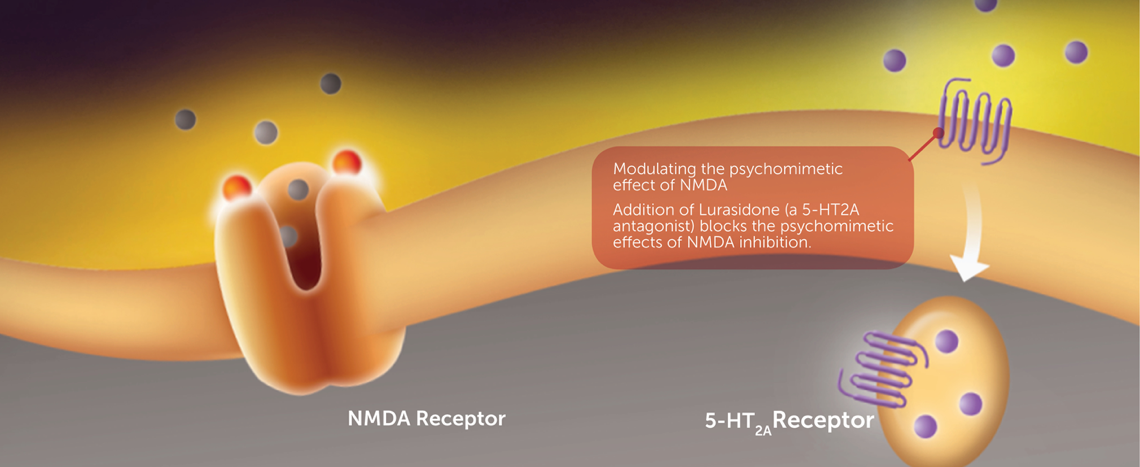 The regimen starts with an initial stabilization of NRX-100. Patients who respond and their level of suicidality and depression no longer require hospitalization, are then treated with NRX-101 in an outpatient setting.
Today, no medicine is approved to treat patients with bipolar depression suffering with high levels of suicidal ideation. The only FDA-approved treatment for this potentially lethal condition is electroconvulsive therapy (ECT). With approximately fifty percent of patients with bipolar disorder attempting suicide over their life-time (mostly during the depressive phases), new treatments are urgently needed.
NRX-101 is a patented, oral fixed-dose combination of two FDA-approved drugs: D-cycloserine, an NMDA receptor modulator at certain dosage ranges; and Lurasidone, a 5-HT2a receptor antagonist. The FDA has granted the combination therapy a Breakthrough Therapy Designation (BTD) for the treatment of severe bipolar depression in patients with acute suicidal ideation and behavior (ASIB), after initial stabilization with ketamine or other effective therapy.
BTD provides a process designed to expedite the development and review of drugs that are intended to treat a serious condition, and for which preliminary clinical evidence indicates the medicine may demonstrate substantial improvement over available therapies.
NRx Pharma's registrational program for NRX-101 focuses on patients with bipolar depression who require hospitalization due to their Acute Suicidal Ideation & Behavior. Such patients will receive an initial single dose of ketamine (NRX-100) to stabilize their condition, those that achieve initial stabilization will receive NRX-101 or an active comparator.
A separate trial is studying patients with Bipolar Depression and Sub-acute Suicidal Ideation and Behavior (SSIB), which are being treated in the outpatient setting, as they do not require hospitalization. These patients will only receive NRX-101 or an active comparator.
NRX-100 / NRX-101 Clinical Trial Information
NRX-100 / NRX-101 Clinical Data
Results from NRx Pharma's STABIL-B trial, a phase 2 study were presented at the American College of Neuropsychopharmacology in December 2018. The FDA granted Breakthrough Therapy Designation (BTD) to NRX-101 based on this study.

Further information about the STABIL-B trial can be found here and in the graph below: