Bringing Hope to Life through our NMDA Platform
We focus on serious, life-threatening conditions with major unmet medical needs. Our growing pipeline is powered by our proprietary, dual-targeted mechanism of action, which safely modulates the NMDA and 5HT2A receptors.
As we unlock our discoveries about the role of NMDA receptors throughout the human body, we leverage that research to bring hope to people with:
Depression
Suicidality
Chronic Pain
PTSD
Therapeutic Areas by Population Size in United States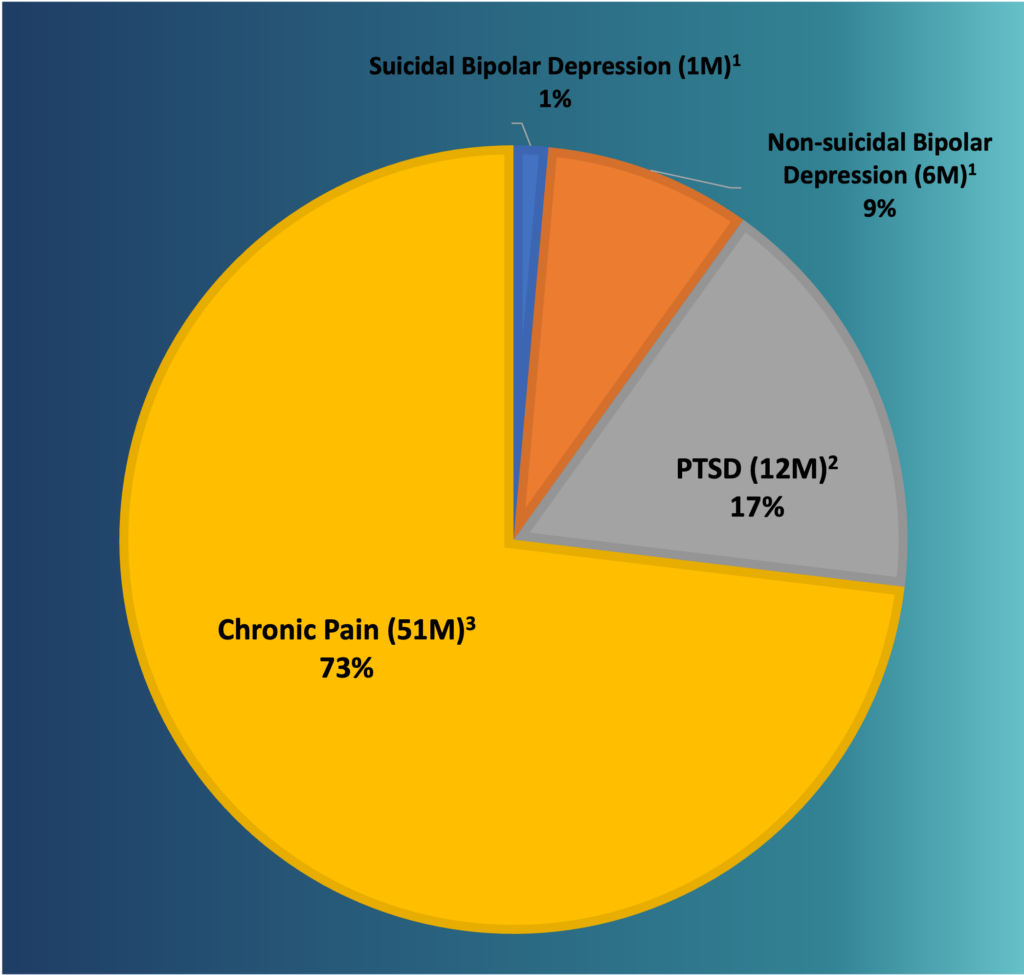 PSYCHIATRY
BIPOLAR DEPRESSION & SUICIDAL IDEATION
Severe Bipolar Depression with Recently Suicidal Patients post stabilization
NRX-100™ / NRX-101™
Treatment of Suicidal Treatment-Resistant Bipolar Depression
NRX-101™
Currently Enrolling, Phase 2b/3 – Data Readout Expected Q4 2023
Expanded Access / Safety Study
NRX-101™
CHRONIC PAIN WITH DEPRESSION
Treatment of Chronic Pain
NRX-101™
Awaiting results of DCS Study in Chronic Pain: NCT03535688, funded by United States Department of Defense
Depression in Patients with Chronic Pain
NRX-101™
Planning – Data Readout Expected in 2024
POST TRAUMATIC STRESS DISORDER (PTSD)
PTSD in patients with Depression & Suicidality
NRX-101™
Commence Planning for Phase 2 in 2023
Expanded Access Policy on RTT: NRX-101 is not currently available outside of clinical trials.