We have received several questions about the status of the Emergency Use Authorization granted to aviptadil in the Nation of Georgia.
Attached please find a copy of the official notification from the Regulation Agency for Medical and Pharmaceutical Activities of the Nation of Georgia, that states as follows:
06 August 2021
Georgian Respiratory Association to Mr. Ivane Chkhaidze
In reply to your letter No. 73948 SN KA030110198063421 dated July 26, 2021,
we would like to inform you that your request for the emergency use of Aviptadil / Intravenous Form
has been deemed appropriate and approved for critical COVID19 patients using the appropriate protocol.
Sincerely
Director Zaal Kapanadze
As a reminder, NRx received official verbal confirmation of Emergency Use Authorization on July 26, 2021, from the Georgian Medical Society that made the request. We received the attached official written confirmation on August 6, 2021.
In the course of this granting of Emergency Use, I traveled to Georgia on several occasions and met with the Prime Minister of Georgia, the Health Minister of Georgia, the Deputy Health Minister of Georgia, and leading members of the Georgia Society of Physicians.
We look forward to continuing to share our progress.
Thank you for following our journey,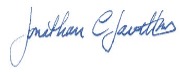 Jonathan C. Javitt, MD, MPH
Chairman and CEO